Technology and Society Forum
June 11, 2017 @ 2:00 pm

-

5:30 pm

$30
Join us for the first of MysTech Lecture Series for One Day and Two Evenings ~ as we explore our future together in a culture of technology with guest speakers: Andrew Linnell, Christina Sophia and Brian Gray.
Hosted by CFAE – Center for Anthroposophical Endeavors and the Seattle Branch of the Anthroposophical Society
Sunday June 11 – Starting at 2pm
Andrew Linnell will Present –
Dealing with the Presence of Vulcan Beings
Futurologists such as Ray Kurzweil predict a time is coming when humans will merge with robotics. Why is this imagination important for Anthroposophist's? We will explore the help from Vulcan beings.
Sunday June 11 – Starting at 3:30pm
Christina Sophia will Present –
Silence and Shadows of Consciousness
Dr. Sophia's presentation is an imagination into the human experience of soul – accessing both the starry and earthly realms, and inhabiting the in-between into knowledge for living consciously developing needed capacities for creating a healthy intellectual life of thought and a moral will – rich in spiritual concepts supporting etheric life forces sustaining the world of matter; and in so doing, developing skills for inhabiting the silence and bringing light into the shadows. She tackles questions underlying inner balance nurturing etheric life forces: the substance of health as the elixir for entering the silence and "I" consciousness. She presents from a life-time of study in spiritual science as well as an elder in spiritual practices.
Monday June 12 – Starting at 7pm
Brian Gray will Present –
Geographic Forces Influencing Our Electronic Technology -Becoming Aware of the Ahrimanic Double in Our Time
Which geographic regions of Earth are most susceptible to Ahriman's influences, and which regions more subject to beneficial cosmic influences streaming from the zodiac? Rudolf Steiner stated that forces streaming from Pisces and Virgo will be helpful in developing healthy human science, whereas those streaming from Gemini and Sagittarius will be harmful. We'll explore these influences and geographic regions from a cosmic global perspective.
Tuesday June 13 – Starting at 7pm
Andrew Linnell will Present –
Exploring Foundations for a Moral Technology
Steiner referred to harmonious oscillations that will enable such emanations to drive engines of the future. He pointed especially to America where such technology should arise.
---
Cost for the Lectures
Full Lecture Series $30
Sunday Lectures Only $20
Sunday with One Evening Lecture $30
One Evening Lecture $10
Two Evening Lectures $20
CFAE & MysTech Members – receive a 20% discount by signing into their account –or- they may choose to pay full price and donate their 20% to the Seattle Branch of the Anthroposophical Society
---
About the Speaker
Andrew Linnell is a 42 year veteran of the computer industry and a graduate of the University of Michigan (MSE '73) and Emerson College, England ('79).  A member of the Anthroposophical Society since 1979, he is president of the Boston Branch, faculty member for the Village University of Concord, and member of the School for Spiritual Science. He has spoken to branches and libraries throughout the USA and abroad on various topics from Quantum Physics to Christian Mysticism to Art History.
Dr. Christina Sophia is an educator, therapist, and author. As a life-long student of spiritual studies she participates in anthroposophical research and initiatives: serving years on local boards developing festivals as well as fund-raising. This includes mentoring the Movement for Religious Renewal Christian Community initiative in the Seattle area for the past twenty-one years. Christina Sophia was integral in the beginning of four Waldorf Schools in the Pacific Northwest, teaching as well as lecturing on Waldorf education and spiritual science. She has additionally taught in the public and private sectors designing curriculum covering a variety of learning and soul challenges. Christina Sophia has a PhD in Education and Transformative Studies, an MA in Education and certification K – 12 in both general and special education. She is currently developing a therapy practice for those suffering from 'Extensive Ongoing Trauma Disorder' or EOTD; and will soon publish her book, "Soul Hygiene: Spiritual understanding for healing and health of Soul."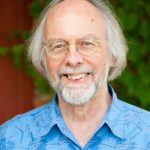 Brian Gray teaches, lectures, and writes on topics drawn from the Anthroposophy developed by Rudolf Steiner. Brian loves to share his research from the realms of Star Wisdom, Biography, Cosmology, Waldorf Education, Sacred Architecture, and Esoteric Christianity. Family, music, art, architecture, astrology/astrosophy, community-building, and spiritual interests stimulate his research. Brian was core faculty at Rudolf Steiner College in Fair Oaks, California for 35 years, from 1981-2016. He served as RSC's Director of the Foundation Program from 1991-1998, and again from 2006-2016. Brian has helped lead tours through Europe, Egypt, and the Holy Land, exploring sacred architecture, sacred sites, and Parzival's quest for the Holy Grail. He earned a B.A. in Architecture from the Georgia Institute of Technology in 1967 and an M.L.Arch. (Landscape Architecture) from the University of Pennsylvania in 1972. He lived and worked in Seattle from 1972-1979. Inspired by René Querido – one of his master teachers at RSC – Brian completed a certificate in Waldorf Teacher Education in 1981. Brian says, "It is a blessing to be able to do the things that I love, and to share many interests with my brothers and sisters through our work together at Rudolf Steiner College." He is a founder and the board president of Wise Cosmos Educational Initiative.